Frequently asked questions
Can the Hydrofoiler handle chop and swell?
---
You can ride on oceans, rivers and lakes, handling moderate chop and swell. The front tiller section of the Hydrofoiler self-levels and help to punch through chop and over swell as you ride. Check out this video showcasing the bike in choppy conditions. *Always ride to your ability and practice caution in riskier conditions.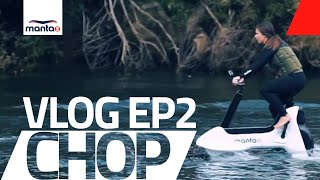 ---
Who can ride the bike?
---
Confident swimmers between 60kgs – 100kgs of any age (no license required). The Hydrofoiler is optimised for riders weighing between 70kgs - 90kgs. To perform the submerged launch, riders do need to weigh below 100kgs in order to re-surface.
---
How fast does the Hydrofoiler go?
---
The bike boasts a top speed of 20km/h and a cruising speed between 11 - 13 km/h. Minimum speed needed to foil is 8 km/h
---
How long does the battery last?
---
The battery offers up to 4 hours of riding time on the lowest assist level and 1.5 hours on maximum assist*. Riding conditions, rider input and ability will affect ride time. The 70 cell lithium-ion battery pack delivers 22Ah with each battery pack being easy to swap out in minutes. To recharge the battery, the battery plugs into any standard wall socket and takes 3 hours to charge back to full. *Ride duration is subject to rider weight, water conditions and level of electronic assistance the rider has selected.
---
How does the battery handle heat/cold?
---
The total ride time (battery life) may differ when operating in extreme ambient temperatures. For example, all lithium batteries achieve optimum service life if used at 68ºF (20°C) or slightly below. If, for example, a battery operates at 86ºF (30°C) instead of a more moderate lower room temperature, the cycle life is reduced by ~20 percent.
---
How do I transport the Hydrofoiler?
---
The Hydrofoiler™ XE-1 is the most mobile personal watercraft in the market today. Designed to be broken down into three parts; front foil, rear foil, and body. This allows for simple storage and transportation in-car or on roof racks. The Hydrofoiler can be assembled within 5 minutes and carried to the water by hand.
---
What is the Hydrofoiler made of?
---
Strengthened carbon fibre which is set with high performance epoxies (front and rear hydrofoils) Aircraft-grade TIG-welded 606-T6 aluminium (frame) Vacuum-formed ASA plastic (buoyancy modules)
---
What size is the Hydrofoiler?
---
The Hydrofoiler™ XE-1 currently weighs 67lbs including battery and motor. Final bike weight may vary slightly depending on production componentry. Fully assembled bike dimensions: 4,5ft High x 6,5ft Wide x 7,2ft Long
---
What do I need as gear to ride?
---
Manta5 insist that riders wear a PFD (personal flotation device)/life jacket and carry a communication device. The PFD will help the rider float in the water when they're not riding. The communication device is to contact someone on shore in the case of an emergency. *Manta5 recommends that riders also check and abide by local policies and regulations when riding.
---
Is the Hyrdrofoiler eco-firendly?
---
Our Hydrofoiler XE-1 is made with 'clean-technology' meaning that riders can explore all water areas, including protected lakes and rivers that petrol-powered watercraft are denied access to.
---
How does the Hydrofoiler™ get serviced?
---
All Hydrofoiler XE-1's are serviced by Manta5 authorised service agents, customers will have access to the list of service agents in their area through the Manta5 Customer Portal (in construction). Most of the XE-1 componentry is constructed from standard bicycle parts. Repairs to the battery and motor, however, must be completed at the Manta5 HQ.
---
What is the minimum water depth required to foil and submerged launch the Hydrofoiler?
---
A minimum depth of 1m to ride the bike in, is recommended. However, to perform the submerged launch to resurface this would require a minimum water depth of 2m
---
What happens when I stop pedalling?
---
The bike floats on its side when stationary. When you stop pedalling you will slowly sink down into the water, buoyancy prevents the bike from sinking when you stop pedalling. Master the remounting technique to perform a "submerged launch" to get foiling again from deep water.
---
---